EASY

Mobile "user friendly" layout, approachable and easiness are plus points, designed for everyone including beginners.

SCALE-UP

UtilityApp grows up with you and is has no development limits. It's always up to you!

ADAPTABLE

The system totally works even with no connection. Each activity held by mobile is constantly updating with central system, and it will be refreshed as soon as you re-connect on WIFI or 3G.
MANAGEABLE

You'll always be in control of held activities by meter readers with real-time updating.

SAFE

Cloud hub h24 monitored with daily encrypted back-up procedures, to keep your informations safe all the way.

REACHABLE

From the beginning, we thought about a technology available to every business, with respect to intended use of each of them. Our growing clients is the proof!
WITH UTILITY APP YOU CAN :
---
Planning, assignment and administration of meters reading, including data on your business Management System

Planning, assignment, administration and tracking of meter readers activity
Integration between pre-existing Business management System and the new web hub will concern the following informations:
Meters reading

Customers database

Service provisioning details

PAYMENTS DETAILS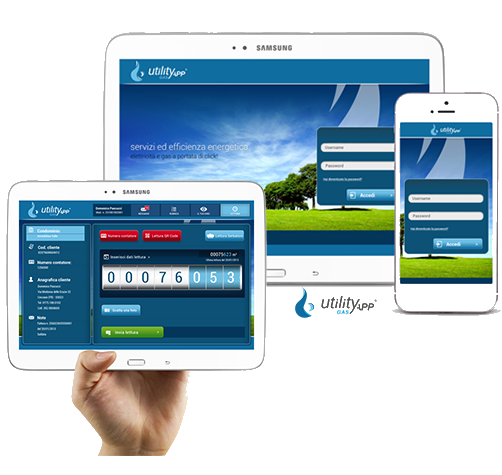 Utility-App is web and mobile application intended for GPL fuel dealer Companies - shells or gas supply network - designed to improve business processes and cut operating costs